School Holiday Classes for Kids - October 2019 - 3 hour sessions
Monday 30th September  2:30pm - 5:30pm (FULL) 
Thursday 3rd October  2pm - 5pm (FULL)
Friday 4th October  2pm - 5pm (FULL)
Monday 7th October  2:30pm - 5:30pm (FULL)
Thursday 10th October  2pm - 5pm (FULL)
Friday 11th October  9am - 12pm (FULL) or  2pm - 5pm (FULL)
Please let us know in the "comments" section of the shopping cart which classes you are paying for. 
Our philosophy: 
We love sewing.  We love that it is a mindful and creative activity that is an important life skill.  If you can sew you can mend clothes and household items (instead of throwing them away), make things for others, create a hand made wardrobe, decorate your home and so much more!
We have been teaching children for 4 years and aim to foster a safe and creative environment in our kids' classes where everyone feels welcome, regardless of their skills, abilities and differences.  We will work with you and your child to find the best way to teach them.
We think that kids are pretty amazing!  They don't have the fear that adults sometimes have of making mistakes and trying new things.  This means that their sewing usually exceeds our expectations.  Kids 8 and up can sew beautiful quilts, bags, soft toys and clothes.  Kids 10 and up often sew as well as an adult can when given the chance. 
This means that we work with their strengths and believe in them.  We don't give kids cheap calico and acrylic felt to "practise on".  We start them on good quality cotton and know that the outcome will be good and will last for a long time.  We let them use pins and irons and teach them to be safe and independent.  We listen to their ideas and incorporate them into our lessons (if a toy dog needs a cape or a party hat - let's get some paper and make a design - hey we have even sewn a waistcoat for an octopus!).
We hope that attending our classes will form life-long memories for your children - and we look forward to meeting them.
The Frangipani Fabrics Team
School Holiday Classes:
Kids aged 8-17 are invited to join our kids sewing class this school holidays - no experience necessary!   Beginners will learn basic machine sewing, pinning and ironing skills.  More advanced sewers will increase their skill base by choosing one of our September School Holiday Projects (listed below) which are all designed to inspire and challenge your children.
These classes are casual - so your child can attend when they like - but we do need you to book.  We also recommend that you book at least two classes so your child can finish a project. 
Kids can choose a sewing project to suit their abilities - although beginners are required to sew the Nine-patch quilted cushion before they move on to their next project. 
You can enrol your child in as many classes as you like.  If a project isn't finished during the holidays, you are welcome to enrol in a catch-up class on Saturdays or after school.  
PLEASE NOTE : CLASS COSTS DOES NOT INCLUDE FABRIC OR KITS
 All classes must be paid for upon enrollment. Kits can be paid for on the day.
Sewing supplies and irons are available during class time. Please let us know if you'd like to borrow a sewing machine ($5 machine hire). 
Children will have a choice of carefully curated kits for each project. Fabric and supplies for each project must be purchased from us.
NO SHOW POLICY
All Frangipani Fabrics Classes are limited to a certain number of class participants. Whilst we are happy that our classes are near capacity, you do need to give us notice if you wish to cancel your class.
If you are unable to attend the class that you have booked, you must give us
1 WEEKS'NOTICE.
Failure to do this means that your fee has been forfeited.
Last minute cancellations will also be considered as No Shows.
Ann and  Briony – Frangipani Fabrics
Tutors: Briony Alderslade and Carmel Archer
The Projects:The nine-patch quilted cushion (for beginners) and the Elephant Softie (see below). Details of the remaining projects will be available very soon!  
1.  Nine-patch quilted cushion (for beginners).  This is the first project that students will sew.
Skills: basic sewing machine knowledge, piecing, pinning, ironing, quilting and pivot turns. 
Kit cost: $25 (includes charm squares and backing of their choice, plus thread and pellon).  Finished size 45cm square.  ONE-TWO LESSON PROJECT
 2.  Elephant Softie (by Vechernie Posidelki)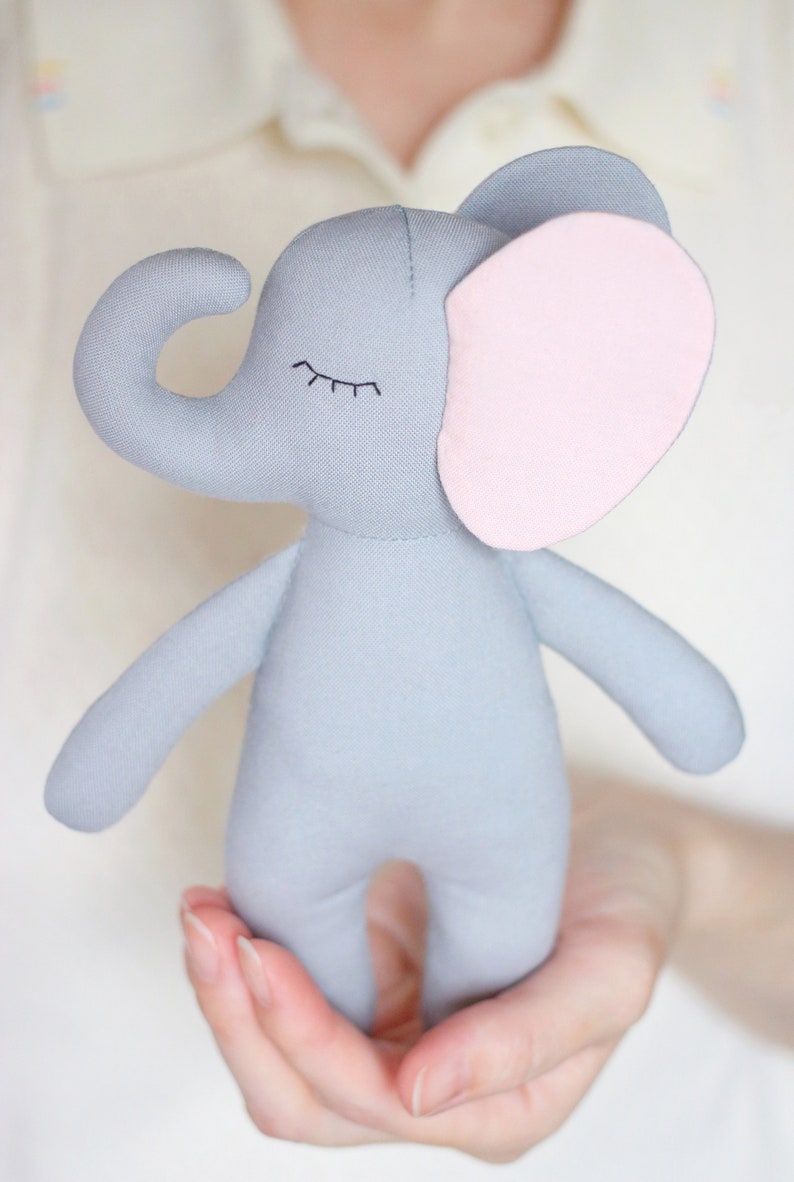 THIS IS A TWO LESSON PROJECT This cute love elephant will be 34cm high when finished.
Skills including soft toy sewing, curved sewing, applique, hand sewing, reading and cutting patterns and stuffing.  
Kit Cost: 38.00 (includes pattern, fabric, wool felt, embroidery thread, vliesofix, stuffing)
 3.  Skirt with appliqued butterfly
(Image from Boden USA - Similar to the skirt your child will be sewing)
TWO LESSON PROJECT
Sew a simple summer skirt with an elasticised waist and a beautiful, appliqued butterfly in jewel colours.  
Skills: Pattern cutting, hemming, sewing with a zig-zag stitch, sewing with elastic, and machine applique.
Kit Cost: $40 (includes fabric, thread, vliesofix and elastic).
4.  Mini quilt
A TWO-THREE LESSON PROJECT
Sew a scrappy mini-quilt using paper templates.  Each quilt will be a unique creation depending on the way your child sews and cuts their quilt.
Finished size 35cm square.
Skills: Foundation Piecing, creative design, straight line sewing, pinning, quilting and binding.   Kit cost $40.00
5.  Willowyn Whale
A TWO LESSON PROJECT
Sew a simple blue whale stuffed animal - designed by Margeaux Davis of Willowynn. 
Finished whale toy will measure approximately 28 cm (11 in) long and 8 cm (3 in) wide.
Kit Cost: $35.00.  Kit includes pattern, fabric, safety eyes, stuffing and thread. 
For students that have attended previous classes - all of these projects will teach you new skills to build on your existing knowledge.